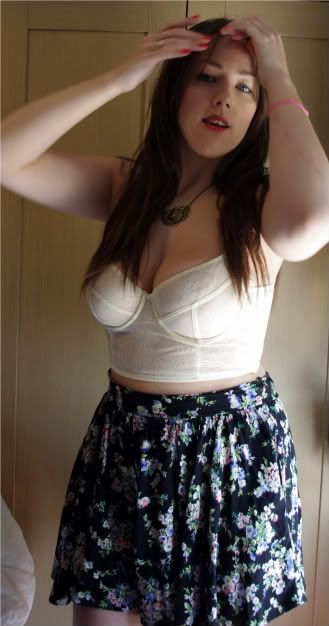 bralette - topshop
culottes - dorothy perkins
I apologise for the terrible lighting and stupid poses, i still haven't gotten the hang of taking my photo yet, but don't think i pose this twattish "coz i thnk i iz lyk well fit bbz" it was by accident. Anyway quickie outfit post today, although i didn't actually wear this today, i wore it the friday just gone (when it was ridiculously hot) to drive down to london. My almost better half was moving back to wallasey after a decent shot at big city life, lasting about eight months, and i was helping his arse move all of his stuff back. When i arrived in our capital after a rough as hell drive,
jack
didn't really get the whole 'underwear as outerwear' thing, which lead to a resounding "i can't believe you're just wearing a bra, why are you just wearing a bra?" (i tried explaining it was a bralette many-a-times, but to no avail) further discrediting his opinion on women's fashion (lu really, jack). I didn't
just
wear this by the wizzle, i wore a denim jacket over it, through sheer terror that one of the twins would try and make a guest appearance.
So, do you like? Or do you think that 'underwear as outerwear' should be reserved for the lesser endowed and skinnier?
tweet me
or
formspring me
.
love and jazz